Fall 2015 workshop with Carl Rohrs
Posted on: 13 Sep 2015
Bridger Mountain Scribes hosted the fall workshop on September 19-20, 2015, in Bozeman. Carl Rohrs was the instructor, and the workshop was entitled "Ghosts of Calligraphy: Modern Moves & 20th Century Masters". A slide show presentation was open to the public at 7 pm on Friday night.
Workshop Description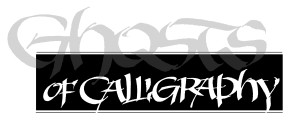 Contemporary calligraphy is a combination of thought, touch, tools, technique — and inspiration. So, we'll be exploring some of the specific techniques for making modern letterforms with flat pen and flat brush. At the same time there will be a whirlwind introduction to the work of my favorite 20th-century calligraphers.
We'll concentrate on the flat pen and effects that occur as the pen loses contact with the paper, bounce, angularity, compression and new ways of dealing with terminals, but will also spend time with the flat brush and the control and texture it offers.
All these tools and techniques can be used to interpret and steal from the following gentlemen — Ray DaBoll, Walter Brudi, Rudolf Koch, Alfred Linz, Herbert Post, Helmut Salden, George Salter, Ernst Schneidler, Villu Toots, Georg Trump (and several others) and the star of this edition of the class, Oldrich Menhart — I've recently run across a great stash of his work, and you will love his otherworldly earthiness. Most of them were type designers, most were teachers, all were calligraphers of startling originality. These men came up with new ways of using hands centuries-old as well as their own completely original styles that have been hiding from you for 50 years and more. The workbooks are 160 pages of great lettering resources, with much of the material unavailable elsewhere.