Fall 2016 Workshop with Suzanne Moore
Posted on: 13 Jul 2016
Suzanne Moore will be the instructor for the workshop "Letters as Images: Written, Drawn and Painted", which will be held in Missoula on October 1 & 2, 2016.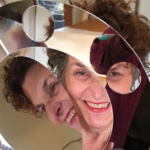 Suzanne Moore is a lettering artist, printmaker, and painter whose eclectic interests fuse in the diversity of her artists' books. Her books blend distinctive design, color use, and surface treatments with textual content and contemporary lettering to create work that obscures the line between word and image, legibility and abstraction. Her manuscript and edition books have been acquired for private and public collections and she teaches in the U.S. and Europe.
Workshop description
The idea that letterforms may be the "subject" of painting and drawing as well as a vehicle to convey
information, opens the door to a broad array of possibilities for lettering artists. The skill, versatility and refined vision of calligraphers give them extraordinary options for creating lettering designs that become images to "illuminate" the viewer. Not so much "illustration", but akin to it, legible and abstracted letterfoms offer unlimited options for visual inquiry.
We will examine and explore our own lettering and that of other artists, and through a series of exercises, develop and build on lettering and design skills to create first black and white variations and then move on to color renditions of letters, words and phrases. Wet and dry drawing, then paint and layering of lettering will create intriguing interpretive designs, complete in themselves, or to complement additional text.
We will consider the variation of scale and tools, as well as the subtleties of letterforms, design solutions and a selection of techniques that will give each student choices from which they will create evocative letter-based work.
Participants will create works on paper for 2D (framed) work or (future) book pages.
(limited time does not allow us to make a book in class)